It's easy to get into a routine when cleaning your home season after season, year after year. While simply going over the same spots may make your home feel cleaner, at the same time, it allows the neglected areas to become dirtier. Here are six commonly missed spots around the home that, once given the attention they deserve, will help make your home feel completely clean.
6 Commonly Missed Cleaning Spots
1. Underneath & Behind Furniture
Dirt and dust love to hide in tough-to-reach, tucked-away spots like behind your nightstand, under your bed frame, and on the underside of your tables, chairs, and couches. Cleaning these areas may require some heavy lifting and rearranging but it's worth your while. If enough dust and grime have accumulated over the years that your vacuum can't remove the buildup, try using a washcloth to loosen the sediment.
2. Vents and Fans
Vents and fans not only collect dust, but they also distribute it around your home. Ceiling fans are one of the hardest spots in your home to reach, so you may need to use a ladder and an extended duster to clean them. Clean your vent grates with a dusting brush or a wire brush depending on the thickness of the buildup. If your home has central air, remember to replace your air filters periodically. A clean ventilation system is key to protecting your home's air quality.
3. Bathroom Surfaces
We all know the feeling of picking up a rarely used shampoo bottle in the shower to discover a grimy ring underneath it. Wipe off your bottles and surfaces in the shower to keep it sparkling clean. Scrub away the debris from your shower head and soak it in a mixture of water and white vinegar to cleanse the device and to prevent a buildup of mineral deposits. To reach behind the toilet, you may need knee pads and an extended cleaning tool. Use a disinfectant-water mixture to prevent the spread of germs. Tackling chores like these will help make your bathroom feel brand new in no time.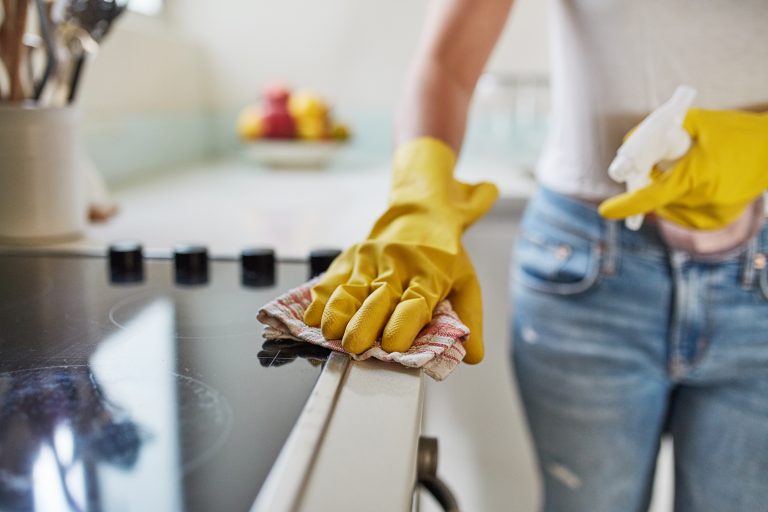 4. Switches & Handles
Light switches, door handles, drawer pulls, and knobs are all hotbeds for germs and dirt and can easily be forgotten while cleaning your home. Take a two-step approach to cleaning these high-touch surfaces: first clean, then disinfect. Cleaning will get rid of contaminants, while disinfecting targets pathogens. The combination of the two will help make your home feel cleaner while reducing the spread of germs. Other high-touch surfaces such as keyboards, phones, tablets, and other devices require regular cleaning as well.
5. Appliances
It's easy to think of your appliances strictly as devices that help your home stay clean and organized, but they are magnets for dirt and gunk, too. After cleaning out the refrigerator and scrubbing down the shelves, find the coils and clean them of debris with a vacuum or a brush. The floor underneath your refrigerator can be a seriously grimy spot, so a quick mop of that area is worth your while. Give your dishwasher a good cleanse to prevent mold buildup and bad odors. Remember to clean out the filter occasionally with soap and water. Cleaning your appliances routinely can help avoid repairs and can even extend their life expectancy.
6. Baseboards
Baseboards are the perfect settling point for dirt and dust. The space between your walls and floors is an easy trap for buildup, and upon closer inspection, you'll find some combination of scuffs, dust, food remnants and scratch marks. To thoroughly clean your baseboards, you may need to move your furniture away from the walls but be careful not to scratch the floor or damage the baseboards. Wipe away the dust before cleaning the surface. Use either a mix of soap and water, water and vinegar, or the proper wood cleaner for wooden baseboards.
The post 6 Commonly Missed Cleaning Spots appeared first on Fort Collins Real Estate | Fort Collins Homes for Sale & Property Search.
http://thecertifiedlisting.com/wp-content/uploads/2017/02/Certified-Listing-Logo-2-300x212.png
0
0
Fort Collins
http://thecertifiedlisting.com/wp-content/uploads/2017/02/Certified-Listing-Logo-2-300x212.png
Fort Collins
2021-09-08 16:01:14
2021-09-08 16:01:14
6 Commonly Missed Cleaning Spots