For the second time ever, Pantone's Color of the Year is actually two colors: Ultimate Gray and Illuminating Yellow. Ultimate Gray is emblematic of natural elements that stand the test of time, while Illuminating Yellow is a cheerful sunshine yellow, symbolizing energy and clarity.
Here are some ways you can harness this color harmony in your home.

Brighten Your Bedroom
With a foundation of Ultimate Gray, Illuminating yellow will brighten your bedroom, livening up the space and radiating positivity. Mix and match different furniture and accent wall combinations to get the right balance of sunny yellow and solid gray.
Refresh Your Home Office
Home offices have become more important than ever. As working from home continues in 2021, your remote workspace is the perfect location to add in Pantone's Color of the Year. We all could use some added stimulation to keep our workdays going smoothly and productively. Use Illuminating to add some colorful accents or to paint your wall, balance it out with some Ultimate Gray, and let the positivity fill your home office.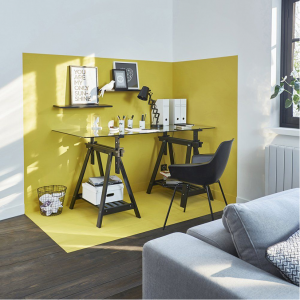 Accents In Your Living Room
Pantone's Illuminating is a perfect accent color for your home. Incorporate this energetic sunshine yellow in your living room in the form of decorative throw pillows, blankets, and accent décor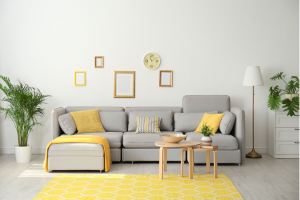 pieces like vases and curtains. Ultimate Gray is a perfect color for large furniture items and will help to balance out the tone of your living room. It provides a neutral backdrop, which gives you the freedom to decorate brightly.
Make A Statement With Your Front Door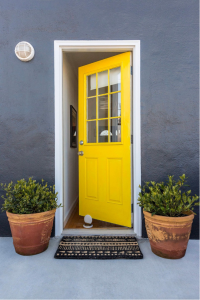 Your front entrance plays a significant role in the first impressions of your home. What better way to use Pantone's striking yellow than a front door makeover? Illuminating yellow presents an opportunity to bring a little sunshine to your family and guests every time they approach. Ultimate Gray as both a wall color and an accent color will help to solidify your new, strikingly optimistic front door. Accent pieces like house numbers, your mailbox, and plant pots will help create harmony between the two colors.
Read more about this year's color trends and how you can incorporate them into your home here: 2021 Paint Color Trends
The post Incorporate Pantone's Color of 2021 Into Your Home appeared first on Fort Collins Real Estate | Fort Collins Homes for Sale & Property Search.
http://thecertifiedlisting.com/wp-content/uploads/2017/02/Certified-Listing-Logo-2-300x212.png
0
0
Fort Collins
http://thecertifiedlisting.com/wp-content/uploads/2017/02/Certified-Listing-Logo-2-300x212.png
Fort Collins
2021-01-13 20:47:41
2021-01-13 20:47:41
Incorporate Pantone's Color of 2021 Into Your Home