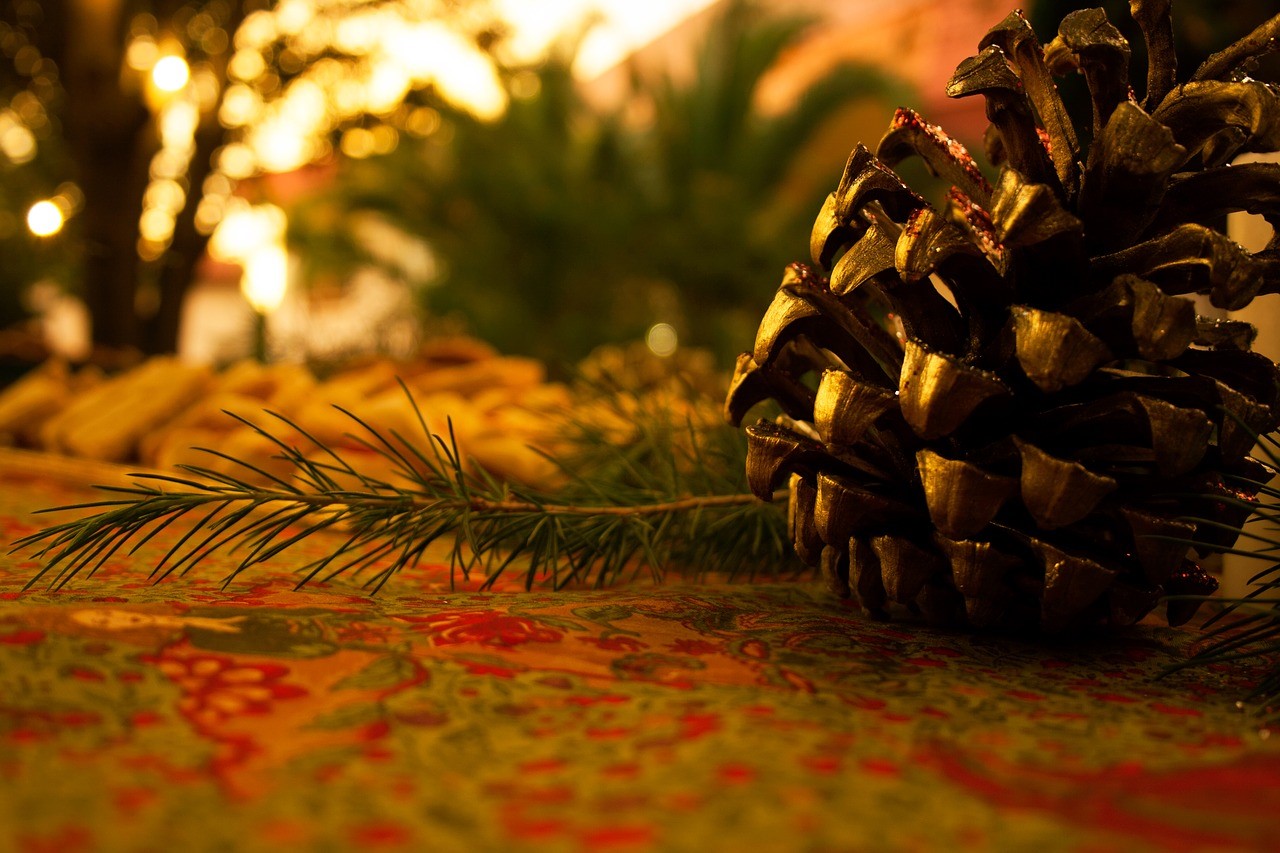 We're in the thick of autumn now, with Thanksgiving just days away. That means it's time to start considering how to best showcase your home before the calendar shifts fully into winter. One of the cheeriest bits of fall is the shifting colors that bring a canopy of rustic rainbow hues to a walk through the neighborhood. You can bring that cozy feeling inside yourself with some golden-dipped creativity.
Gilded Pears – Use real or fake pears, whichever you prefer, spray paint gold, and allow them to dry completely. You can add little flags to the top if you're really feeling crafty.
Magnolia Wreath – Collect some Magnolia branches and use a wreath frame as a base. Spray paint the green side of each leaf with gold and then assemble using wire. Supposedly it's not as complicated as it looks!
Dipped Pinecones  – First, you'll want to make sure your cones are clean and dry. Apply gold leaf adhesive using a foam brush; deciding how much you add will determine how much of the cone is covered in gold. After they dry, it's time to add gold leaf, which comes in whisper-thin sheets about 5" square. Wrap it around the cone and use a clean foam brush to rub it into the adhesive. Then give it a light spray with sealant and allow them to dry.
Gold Acorns – Hand pick your acorns, clean, and oven-dry them to make sure they are pest-free. Paint them gold and then add a layer of clear shellac for a shiny look. Lastly, you'll want to use a hot glue gun to attach the caps since they naturally fall off after the acorns dry. You can use these as filler in a glass vase or simply scatter them on a tabletop.
Shimmering Maple Garland – All you'll need is a bag of artificial leaves, bought at any craft store, some Elmer's glue, glitter, and string. Use a paintbrush to apply glue to each leaf and sprinkle lots of glitter over them. Let the glue set, then shake off the excess glitter, punch a hole at the top and attach a ribbon. Tie them all to a large strand and voilà, a perfect garland for the holidays.
Petite Pumpkins – If you are still head over heels for pumpkins, then using small ones for place cards will add some spice to your table. Tape each pumpkin halfway with painters tape, it can be horizontal, diagonal, you pick! Next paint the bottom portion with gold craft paint (may need multiple layers) and with the last layer still wet, generously sprinkle gold glitter over the painted half. After your pumpkin is dry and you've shaken off the excess glitter, wrap beading foil tightly around the stem. Leave a little extra at the end for you to bend for your place card.
The post Go for Gold This Thanksgiving appeared first on Fort Collins Real Estate | Fort Collins Homes for Sale & Property Search.
http://thecertifiedlisting.com/wp-content/uploads/2017/02/Certified-Listing-Logo-2-300x212.png
0
0
Fort Collins
http://thecertifiedlisting.com/wp-content/uploads/2017/02/Certified-Listing-Logo-2-300x212.png
Fort Collins
2020-11-24 23:31:53
2020-11-24 23:31:53
Go for Gold This Thanksgiving